Maximizer Duplicate Cleanup & Fix Utility
Address Book Duplicate Clean up Tool
The Address Book Duplicate Clean up tool is a utility designed to clean up duplicated address book records, caused by a malfunctioning synchronization between Maximizer and some other address book like the Outlook contact address book. The tool will detect duplicated address book entries, which have no child records attached to them (note, tasks, appointments, UDFs, etc... ) and then delete them.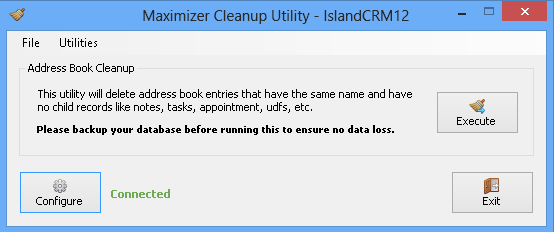 Time Zone Adjustment Tool
A Maximizer Calendar can have Calendar appointments become out of time alignment when one of the Maximizer Workstations, Maximizer Server or all of them have the incorrect time zone set. This incorrect time zone gets noticed and corrected, then suddenly all the calendar appointments start and end time changes in the amount of the time zone difference. This tool will change the time for the incorrect calendar appointments back into proper alignment.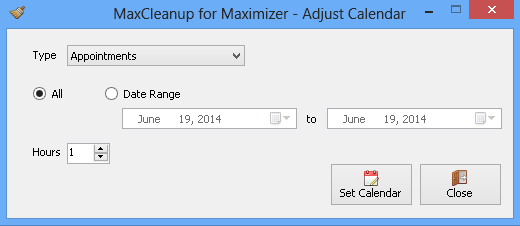 Fix Maximizer Alarms
If you are experiencing the Maximizer bug where you are receiving Maximizer alarms for completed past appointments and tasks, the "Fix Maximizer Alarms" tool included in the Maximizer Cleanup Utility will fix this for you.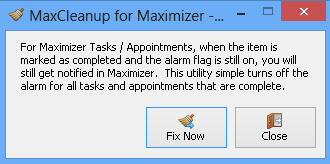 Linked Document Broken Link Fix Tool
In a Maximizer database you have the ability to link documents to their source location instead of embedding them in the SQL database. This saves on database space and allows the document you've embedded to be a live document, which can be updated by users and have the changes be immediately available from the Maximizer document link, instead of being a static read only document, which is the case with a document stored in the database. The problem with a linked document is that people move them or delete them and the link gets broken. Worse still a server which houses 1000 of documents, gets renamed, the share gets renamed or the server crashes and becomes restored with a different server name or share name. Whatever the cause, the results are broken links. There is no way to discover what the link path was from inside Maximizer and you forever more have 1000s of broken document links. Our tool will help you fix this problem and restore the document links to a functioning state, but first telling you the path that the documents did exist at and then giving you the option to change the path to the correct location.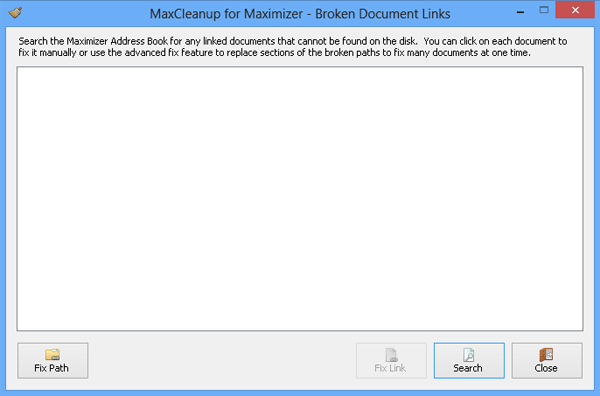 Phone Number Format Fix Tool
In a Maximizer database you have four phone number fields and you can enter any format you want. This drives many business owner's crazy when phone number formats are not all the same. Sometimes, because of automatic dialing software, you need all your numbers in one format. The Phone Number Format Fix Tool will resolve this issue for you.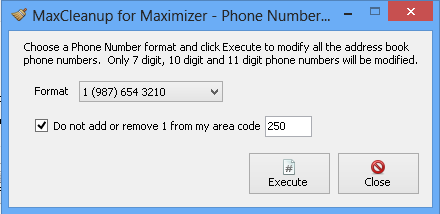 Download Trial